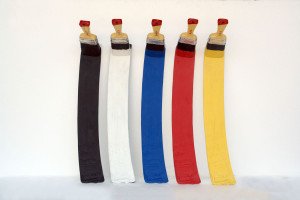 Rolon provides new unique range of high quality paint brushes called Vincent. We also have a wide range of Purdy and Wooster brushes.
Synthetic Paint Brushes
Synthetic brushes outperform the natural hair brushes easily. They last up to 7 times longer then natural hair brushes. There are only a few manufactures in the world that produce good synthetic fibers for paint brushes. Chinex® and Tynex® often mixed with Orel® are top quality filaments made by DuPont.
Our Vincent range is a unique high performance brush. It hold more paint and washes out easier then Purdy, Wooster and other well know brands. The finish is excellent and cutting in is beautiful.
1. Vincent brushes
We have now a unique high performing brush available for competitive prices. It will compete or outperform the best in the Australian market. The brush is specially developed for us to suit the Australian market.
Vincent brushes are available in various styles and sizes:
Sash cutters
Thick Wall brushes
Thin Wall brushes
Our brushes are purposely not trimmed for finer finish
Every painter deserves a Vincent brush!!!!!!!!!!!!!!!!
Washing out easier
Hold more paint
Excellent cutting in qualities.
High quality bristle
Painters feedback:
superb brush
great for glossing
less drip when cutting in ceilings
2. Purdy brushes
We have 3 types:
Pro Extra: stainless steel ferrule. The filaments are a combination of Chinex® mixed with Tynex® Nylon and Orel® Polyester.
Elite: stainless steel ferrule: Chinex® with Orel® These brushes with stainless steel ferrule contain a blend of DuPont™ Chinex® and Orel® Polyester solid round tapered filaments.
XL: copper ferrule: Tynex® mixed with Orel® (=nylon/polyester)
Please note that Purdy has a Monarch Elite and Monarch Pro Extra brush. This brush is very different from the Monarch Advance from ABC, which is made in China.
3. Wooster
We have a range of Wooster brushes available to complement our high quality synthetic brushes. Some of the brushes stand out for their handle and the Advantage is attractive because the filament is a mixture of synthetic and natural hair, which makes it a very special gloss brush.