These high quality, unrivalled rollers have strong support in the market. An exclusive German produced fabric, made from a continuous poly-amide fibre to reduce lint. Specially twisted during weaving and partly opened up to increase the paint holding capacity. Poly amide is best for water-based paint because it's affinity to water. Polyester has an affinity to oil based solvents and the special polyester backing of this fabric makes it also suitable for oil-based paints.
Some experienced painters who look after the rollers use the worn-down rollers for glossing doors.
For more detailed information on the fabric properties and performance see our Goldstripe 12mm Fabric Information sheet.
The previous version of this fabric was made from a discontinuous (called stapled) fibre.  This version is now available again and has 2 yellow stripes.  We realise that some painters prefer the original fabric which seem to have a slightly better productivity due to the lager number of "fibre ends"  inside the nap. The materials in both fabrics are identical.  Stapled fabrics always need to be used for undercoat first until all loose fibres are removed. They are a logical result of the way the fabric is constructed and produced.
Colour pattern:
White with one yellow line
Available Sizes:
100 mm -4″  baby roller
150 mm -6″  baby roller
160 mm –      trim roller ("fat" baby roller)
230 mm -9″
270 mm -11″
360 mm -14″
460 mm -18″
Pricing
For a full price list please contact us.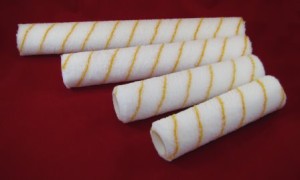 Goldstripe 12mm Nap